Southwest Florida Kitchen Remodeling
Transform Your Kitchen into a Stunning Oasis with Our Kitchen Concepts
At Southwest Florida Builders Group, we understand that the kitchen is the heart of your home. That's why we offer custom kitchen remodeling services that cater to your unique needs and style. From cabinet installation to lighting and appliance installation, we use only high-quality materials and trusted brands to ensure your awesome kitchen is both functional and visually stunning.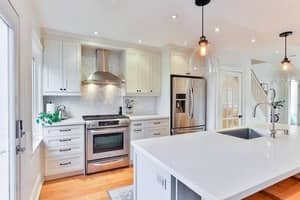 Planning a Kitchen Remodel? Learn How Much a 10x10 Renovation Should Cost
If you're considering a kitchen remodel, it's important to understand the factors that can impact the overall cost. The size of your kitchen, the materials you choose, and the extent of the renovation can all influence the final price tag. A minor remodel might cost around $10,000 – $15,000, while a major renovation could run upwards of $30,000 or more. To ensure that your remodel stays within your budget, it's crucial to establish a realistic spending plan and work with a professional contractor who can provide guidance on the feasibility of your plans.
Transform Your Space with Confidence: Learn About Our Simple and Effective Remodeling Process
A kitchen remodel can be a big undertaking, involving a variety of different tasks. Depending on the scope of the project, here are some common steps you might expect:
Planning and Design

– Work with a designer or contractor to plan and design the remodel, keeping in mind factors like layout, materials, and budget.

Demolition and Removal

– Demolish and remove existing fixtures, appliances, and finishes to prepare for the new design.

Structural Changes

– Make structural changes, such as knocking down walls, building up new ones, and rerouting plumbing and electrical systems to accommodate the new layout.

Installation of New Features

– Install new features, such as flooring, cabinetry, countertops, appliances, lighting, and backsplash.

Painting and Finishing – Add finishing touches, including painting walls and ceilings, adding hardware and window treatments, and decorating the space.
Clean-Up and Final Inspection – Once the work is complete, the area is thoroughly cleaned up, and a final inspection is conducted to ensure everything meets local building codes and safety standards."
Elevate Your Cooking Experience: The Benefits of Kitchen Remodeling
There are several reasons why you may want to consider a kitchen remodel. Here are some of the most common reasons:
Functionality

: A kitchen remodel can improve the functionality of your kitchen. You may need more counter space, better storage, or updated appliances to make your kitchen work better for your needs.

Energy Efficiency

: Updating your appliances and installing energy-efficient lighting can help to reduce your energy costs and save you money in the long run.

Style

: If your kitchen is outdated or doesn't reflect your personal style, a remodel can help to create a kitchen that is more aesthetically pleasing and enjoyable to spend time in.

Resale Value: A kitchen remodel can increase the resale value of your home. According to real estate experts, the kitchen is one of the most important rooms in a home when it comes to selling.
Safety

: An older kitchen may have safety hazards such as faulty wiring, outdated plumbing, or outdated appliances. A remodel can help to address these safety concerns.

Lifestyle Changes

: If your family has grown or your lifestyle has changed, a kitchen remodel can help to create a space that better meets your current needs.
If you're thinking about a kitchen remodel, keep in mind that it can offer a variety of benefits, such as improved functionality, energy efficiency, safety, and even increased resale value. To make sure you get the most out of your investment, consider consulting with Southwest Florida Builders Group. We can help you create a customized plan that fits your goals and budget, so you can enjoy a beautiful, functional, and valuable kitchen that meets your unique needs. Contact Us now!
10312 Bloomingdale Ave Bldg. 108 Ste 167 Riverview, FL 33578
WE CAN BUILD YOUR NEXT PROJECT
Best Quality Services is Our Commitment
Look no further than Southwest Florida Builders Group, LLC. Our commitment to providing top-quality construction services while being environmentally conscious sets us apart from other builders. By cultivating strong relationships with our customers, vendors, employees, subcontractors, and community, we've earned a reputation throughout Southwest Florida as a respectful, honest, and innovative builder. Choose Southwest Florida Builders Group, LLC for your next construction project and experience the difference our commitment to excellence and sustainability can make.